Natural sites also attract investors for purchasing a property in Galicia

In previous articles we've talked about the architectural jewels that has Galicia especially in places like Santiago de Compostela and Pontevedra where Roman, medieval, and modern constructions are also very different styles. However one of the biggest attributes that has Galicia are the amount of natural landscapes that can be found and diversity between them, and that many people enjoy daily by buying a property there.
Galicia located in the northwest of Spain and its main characteristics are its eternal greenery and the beauty of its coasts which face the Atlantic Ocean and the Cantabrian Sea. This explains the nature of its economy based mainly on livestock, agriculture, fishing, shipbuilding, and tourism growing increasingly. The landscape of Galicia is lush, mountainous and dotted with pine and eucalyptus associated with rural landscapes of permanent greenery that attracts the attention of visitors, the iconic road to Santiago de Compostela which is must for believers and pilgrims in the world, together with excellent cuisine based on seafood, make this very attractive for tourists from all over Europe locality. To this is added the number of small, very welcoming people who constantly have festivals of great tradition, giving an affectionate and welcoming atmosphere that meets its coast and evokes a permanent festive and beach atmosphere throughout the year. This explains that most investors in the region are of Nordic origin, English or Russian, looking to escape to a warm place and also is close to their home countries, making it easier and convenient getaway from the cold and routine.
In this article we turn to show some of the national parks and other places where you can enjoy nature aside some things related to architecture or trade.
What are the National Parks in Galicia?
National parks in Galicia, are directly related to forests and mountains, representing the main ecosystems of Galicia. These National Parks are a legal figure established in Spain and in Galicia for the protection of flora and fauna, but of course, are there to be visited by tourists, and some of them, come to receive even hundreds of thousands of people a year.
Galicia currently has six natural parks declared: Fragas do Eume, Corrubedo and Carregal and Vixán lagoas in the province of A Coruña; Or Invernadeiro, Enciña da Serra da Lastra and Baixa Limia-Serra do Xurés in the province of Ourense; and Monte Aloia, in Pontevedra.
We will describe each of them:
Serra do Baixa Lima Xurés
This natural park is located in Ourense, and is essentially a forest of tall trees, lions and horses, which extends to Portugal when it becomes the National Park Peneda Geres, from Roman times, this forest was crossed by legionaries 2000 years ago, today on the contrary, small towns are located along the park as Casolas. In addition, this park has bred a race of cows is known only as Cachenas.
Complexo dunes of Corrubedo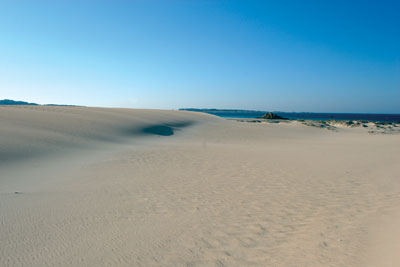 It is a great desert that covers about 1,000 hectares, consisting of dunes, beach, freshwater lagoons and salt water, and so impressive in its beauty, which has served as scenery for movies, and also justifies the large number of visitors It receives per year, which reaches more than 300 thousand people. It also has an extraordinary flora and fauna, especially waterfowl which was declared Zone of Special Importance for Birds.
This forest is characterized by abundant vegetation that remains thick throughout the year in the more than 9000 hectares occupied by the park, which is listed as an Atlantic forest because of its proximity to the sea. Throughout the territory occupied by the park, 500 people live maximum and remains virtually virgin forest, which makes it very attractive for visitors and tourists.
This natural park is a mountain range that forms part of the Serra do Galiñeiro, which has an area of ​​more than 10 km of fir trees, Lebanese cedars and cypresses. It is more than 700 meters above sea level and has 5 lookouts to observe the banks of the River Minho.
It is also located in Ourense, and occupies nearly 6,000 hectares of mountains of flora that changes according to the seasons and landscapes of rocks with notable waterfalls that begin on cliffs. It has an impressive flora and fauna that is favored by the inhospitable as there is no human settlements throughout its territory, therefore, is home to wild animals such as wolves, wild boars, wild goats and birds of prey. For tourists who want to visit this park should require a permit to enter the park, if you want to venture into this, there are 6 ways that allow tourists to be guided in its route.
Enciña da Serra da Lastra
This natural park located in Ourense contrasts with the rest of the Galician parks as these have usually granite like rocks, on the other hand, in Serra da Enciña predominantly limestone, which by their nature, undergoes chemical changes that have caused cracks or caves in the region they are called shovels, within these formations of stalactites and stalagmites, and large colonies of bats are found. Outside these caves, colonies of other birds are common and it is also possible to find forests, which features Mediterranean flowers such as orchids are quite common accompanied by oaks, chestnut trees and other trees that create a perfect setting in the park.
Other natural sites of tourist interest in Galicia
In addition to national parks that exist in Galicia, there are other places that despite not having the name of national or natural parks, have great tourist potential and receiving a large number of visitors per year.
Galicia is bathed in part by the Cantabrian Sea, part of the spin waves of the Atlantic Ocean, off the coast of Galicia fascination give rise to some of the most spectacular beaches in Spain. With 800 miles of beautiful coastline unexplored and a peculiar mixture of rials (bays), sandy beaches and picturesque lagoons, Galicia, makes it an ideal place for nature lovers, surfing and desert destination.
Recently named one of the best beaches in the world, the idyllic A Catedrais (Beach of the Cathedrals), near Ribadeo, with its soft white sand, magnificent arches and unusual rock formations that appear in the Rias Altas come from nowhere, from then you crowns the beautiful Cantabrian coast of Galicia.
Other equally attractive features include the picturesque Galician coast Cies Islands off the coast of Vigo, Beach Dominos in Ferrol and Carnota Beach, arguably the best strip and largest in the region of the sand. Located within the Atlantic Islands of Galicia National Park, near the coast of Pontevedra Cies Islands consist of three dazzling islands, these are Monteagudo, do Faro and San Martino. Often regarded as an unspoiled paradise of Spain, this nature reserve is home to some of the most fantastic European beaches, including Praia de Rhodes, which was included in 2007 among the best beaches in the world.
These stunning islands of the Rias Baixas region have the perfect combination of fine white sand, turquoise waters and stunning scenery, along with the peaceful atmosphere of the location make the rest in the most prominent beach in Galicia.
At the Cies Islands you can be reached via a boat trip from Baiona 40 minutes, but you can only visit during the summer months. Camping is the only option available to those wishing to stay a while and explore this natural paradise, as there are no hotels or other developments in the area.
Another tourist sites not recognized as a natural park is the Vilan out, located in the province of A Coruña, is one of the places to be visited, along with its lighthouse is an icon of the area, it has cliffs allowing some of the best views of the coast and with a fairly estimated by the Galician ecological value. It is also home to several species of seabirds including storm petrels, gannets gull.
The Aciñeiral of Cruzul located in the province of Lugo, are oak forests that form in river valleys that are surrounded by chestnut, oak, birch and maple, and the best time of year to see them is during the fall when it produces a unique combination in the colors of the mature leaves. Wildlife is another contribution of this forest where you can find animals like wild boar, wolf and fox, who are attracted because of the large number of fruits produced in the trees around which draws attention other species such as the red-backed shrike harrier or chough.
The dunes are another attraction that always attracts the interest of tourists, and a landscape of this type can be found in Carnota Beach and Cardebarcos marshes, which are in A Coruña province. After the stunning white sand, clear waters and strong undertow, and at high tide, a wide lagoon that occupies almost the entire back of the dune complex, being, at low tide, as an extensive intertidal plain is formed. In the northern part is the impressive Monte Pindo, which draws attention to the strange shapes of granite rocks, which look like figures of monsters, men and animals. Pindo massif is crossed by the Xallas river which flows into the Ria de Ézaro in an impressive and unique waterfall of 30 meters high.
The estuary Ulla has a special role in geographical terms and that separates the provinces of A Coruña and Pontevedra, is of great importance in fishing terms, and also in terms of vegetation, thanks to the union between fresh and salt water are developed reedbeds, salicornias or espartinas which are types of flora which only develop a certain level of salinity. This has also generated an interesting biodiversity especially birds like the coot, heron, moorhen, hawks, goshawks, jays and dozens of other types of birds along with other amphibians that are common in the area.
Conclusion
Galicia as a province is impossible to define a single type of landscape. Although it is known as the green corner of Spain, it would be unfair not to take into account its beaches every day earn more followers both inside and outside of Spain. It is therefore necessary that along with all the architectural, artistic, cultural, and commercial qualities, a massive tourism campaign for all natural resources owned Galicia, starting with its national parks, which although reservoirs of flora and fauna starts, six can be visited by tourists. Galicia also has other sites where nature is the protagonist, as some of those mentioned above.
Another factor that this province has in its favor is its climate, especially in regions such as A Coruña, where temperature variations in their territory do not vary more than 5 degrees throughout the year, so many foreign tourists have chosen in this area as a destination for summer or to purchase a second home. And some provinces in the region have initiated plans to encourage foreign visit, as in Pontevedra, where it is easy to find people who speak English, making communication easier with tourists. That example should follow other cities and provinces.
Written by: CAPD
Words: 2051
Contribution to the reader: Know the most outstanding natural destinations in the Galician provinces from its national parks, and famous natural sites. So, besides visiting famous sites, for its architecture, history or gastronomy, you can also enjoy outdoor sites.
Main sources:
– galiciaguide.com/Property-in-pontevedra.html
– es.luxuryestate.com/espana/galicia/la-coruna
– farodevigo.es/gran-vigo/2014/01/27/alameda-afianza-tercera-zona-galicia/955476.html
– galiciaparaelmundo.com/blog/?page_id=51&recurso_id=3020
Secondary sources:
– davidsbeenhere.com/2012/07/18/top-5-towns-to-visit-in-galicia-spain/
– es.wikipedia.org/wiki/La_Coruña#Patrimonio
– galiciaproperty.com/buying-property-guide/
– abc.es/local-galicia/20130712/abci-buen-momento-para-comprar-201307112151.html